The KRUSEGO technology is patent protected in New Zealand & Australia and has patent pending status in North America, UK and Europe.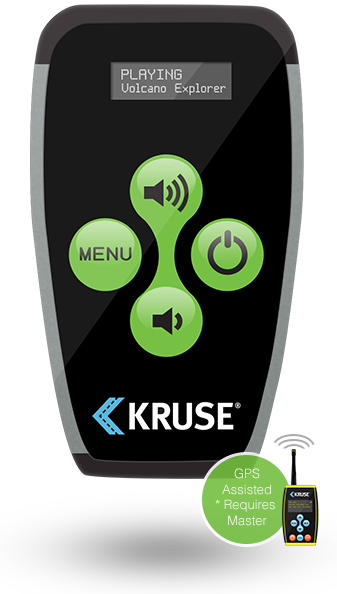 KRUSEGO EXPLORER
THE SOLUTION FOR SIMULTANEOUS MULTI-LANGUAGE TOURS
KRUSEGO Explorer, the multi-language solution for coaches, boats, trains and group guided tours. No matter what the size of your tour group, KRUSEGO Explorer delivers your commentary in all languages simultaneously to everyone.
Wireless. Portable. KRUSEGO Explorer is up and running on any tour in seconds.
GPS triggering, manual triggering or a combination of both; KRUSEGO Explorer does it all
One tour, ten tours, one language or multiple languages; KRUSEGO Explorer covers all of your tour options and languages in a single solution.
Offer a combination vehicle and walking tour? KRUSEGO Explorer will seamlessly operate on and off your tour vehicle.
Completely Portable
Completely Wireless
Multiple Tour Option Capability
Multiple Languages Simultaneously
GPS Commentary Triggering
Portable Charging Station

USB for tour updates or modification
Studio Quality Audio
Lanyard for hands-free operation
3.5mm headphone jack
Volume Control
16-hours continuous operation
2 hours for battery recharge